Hiya!
It's April…we are already 1/4 of our way through the year…wow. I loved how Everyday March made me feel so productive! That's probably why it zoomed past so quickly.
It's also Easter break so I have a couple of weeks off, meaning I should be able to read quite a bit.
Course Reading:
I am very lucky to not have any course reading this month as we are into exam prep season. I will probably have to reread some of the ones from earlier into this month to help remind myself but other than that, all reading I will do is of my own picking – which is a nice change.

Continued Series:
I really want to finish Matched by Ally Condie this month, which I started reading in February but didn't finish.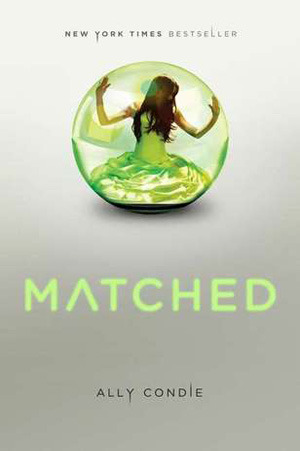 In the Society, officials decide. Who you love. Where you work. When you die. Cassia has always trusted their choices. It's hardly any price to pay for a long life, the perfect job, the ideal mate. So when her best friend appears on the Matching screen, Cassia knows with complete certainty that he is the one…until she sees another face flash for an instant before the screen fades to black. Now Cassia is faced with impossible choices: between Xander and Ky, between the only life she's known and a path no one else has ever dared follow—between perfection and passion.
The second book I want to finish in April is Obscured by C.M Boers. I am rereading this because I thought I didn't give it a very fair review last time and I want to put my new opinions to the test with a reread.
Abby Martin thought she was an ordinary girl about to start high school. But when her mom announces that they're moving to Arizona, vivid nightmares start plaguing Abby's nights. As she settles into her new school and a cute guy named Pete catches her eye, she hopes that life might somehow get back to normal. To Abby's horror, "normal" becomes a thing of the past as she's swept up into a world of immortal protectors wielding supernatural gifts. When Abby realizes she's a pawn in a centuries-old feud, she must figure out who she can trust before she's caught in the crossfire. Prepare yourself for heart-pounding suspense in the world of Obscured, where nothing is as it seems and danger lurks in unexpected places. #
The final continued series I want to read is Blood for Blood by Ryan Graudin. This is the sequal to Wolf by Wolf which I reviewed in March and completely adored. Obviously I can't wait to see what drama Yael gets up to next.
There would be blood. Blood for blood. Blood to pay. An entire world of it.
For the resistance in the Third Reich, the war may be over, but the fight has just begun. Death camp survivor Yael, who has the power to skinshift, is on the run: the world has just seen her shoot and kill Hitler. But the truth of what happened is far more complicated, and its consequences are deadly. Yael and her unlikely comrades dive into enemy territory to try to turn the tide against Hitler's army, and there is no alternative but to see their mission through to the end, whatever the cost. But in the midst of the chaos, Yael's past and future collide when she comes face to face with a ghost from her past, and a spark with a fellow rider begins to grow into something more. Dark secrets reveal dark truths and one question hangs over them all—how far can you go for the ones you love?
New Standalone:
Only one in this section: Magnolia by Kristi Cook. I recently bought this after having found it whilst doing my first Friday Finds post. It sounded totally up my street so I grabbed it straight away and I can't wait to read this.
In Magnolia Branch, Mississippi, the Cafferty and Marsden families are southern royalty. Neighbors since the Civil War, the families have shared vacations, holidays, backyard barbecues, and the overwhelming desire to unite their two clans by marriage. So when a baby boy and girl were born to the families at the same time, the perfect opportunity seemed to have finally arrived. Jemma Cafferty and Ryder Marsden have no intention of giving in to their parents' wishes. They're only seventeen, for goodness' sake, not to mention that one little problem: They hate each other! Jemma can't stand Ryder's nauseating golden-boy persona, and Ryder would like nothing better than to pretend stubborn Jemma doesn't exist. But when a violent storm ravages Magnolia Branch, it unearths Jemma's and Ryder's true feelings for each other as the two discover that the line between love and hate may be thin enough to risk crossing over.
I know it's not a lot but I know I will probably ignore this and pick up whatever book i feel like in that moment anyway XD
I want to know what books you plan on reading this month or if you have read any of the ones I mentioned and think I should pick that up first?
See you soon ❤